LGB 19902 Station Track Set
You can enlarge your LGB starter set circle into an oval with a passing track. Two trains can pass, one train can park, cars can be switched or a locomotive can be moved from one end of the train to the other. The storage box includes:
1 - 12000 manual right-hand switch
1 - 12100 manual left-hand switch
9 - 10000 straight track sections
2 - 11000 curved track sections.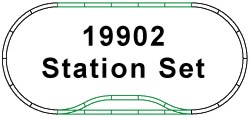 Expands a 4 foot "starter set" circle of track into a 4 x 9 foot oval.